Oxygen FAQ
Up to date, expert answers to frequently asked questions (FAQ) about oxygen supply systems, respiratory care and pulse oximetry written by OCC & collaborators.
Cylinders
Without access to an oxygen analyser it can be difficult to determine the gas contents in a cylinder. International standards for color of cylinders are not straightforward.

Most cylinders are filled using pressure swing adsorption (PSA) oxygen plants and thus have a maximum FiO2 of 95%  and often considerably less.

Older oxygen cylinders may be black with a white top. Outside of these standards many variations also exist.  All the cylinders in the images below contained oxygen.

Oxygen analysers should be used to determine gases before use. Cylinders require routine testing and cleaning by certified technicians. Outlet fittings should be examined for damage or corrosion.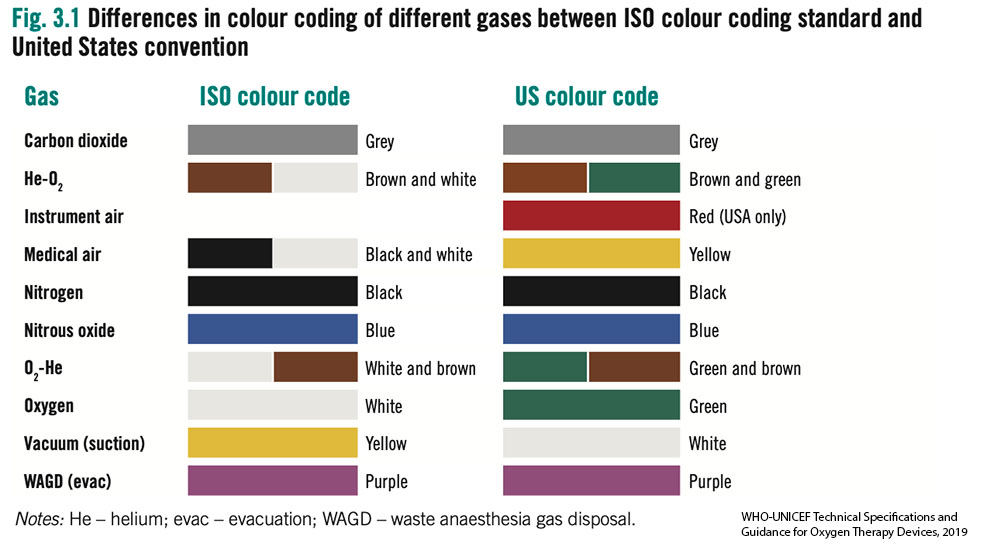 Most oxygen regulators will have a gauge attached, a full J size oxygen cylinder full will have a weight of 78kg (172lb) the oxygen contained in the cylinder weighs approximately 9kg (20)lb, Therefore gauging the volume of oxygen in a cylinder is difficult.